Here we provide details on applying for Canadian commercial and personal licenses. Depending on what your goal is, the license and application process can be very different.
An industrial hemp license is one of the many related licenses that you can get in Canada. However, these are outside the scope of this guide
Canadian Commercial Licenses
The featured image provides a detailed guide provided by the Canadian Government license reference. Ultimately, depending on your exact goals, you will have to choose from one of the following
Nursery
Standard Cultivation
Micro Cultivation
Standard Processing
Micro Processing
Sale for medical purposes
Analytical Testing
Research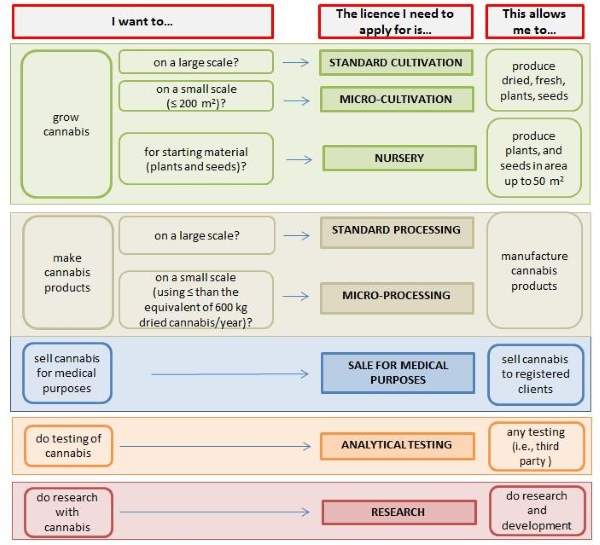 Typically, you can only have 1 license per category per business so choose well.
Canadian Personal Licenses
Except for a few exceptions like Manitoba, everyone in Canada can legally grow 4 plants at their home. Otherwise, the only license to consider today would be the ACMPR. As of August 24, 2016, the Access to Cannabis for Medical Purposes Regulations (ACMPR) will replace the Marihuana for Medical Purposes Regulations (MMPR).
The ACMPR was created because of a court proceeding in Feb 2016 which stated that the Government could not force medical users to only buy from licensed producers.
Need Help?
If you are interested in getting help with the process, contact us. Our team can help you at any stage of the application process. We support those who are new to the industry and experts to achieve their business goals with legal cannabis